Gift Vouchers
FLY FISHING IS SO NICE AT CLEVELEYMERE....
...
FLY FISHING TIPS
CLEVELEYMERE CATCH RATES SOAR !!!
 Every fly fisherman this week has caught impressive amounts of trout .A party from Cheshire of 4 caught on there 1st casts ...If you have not been to Cleveleymere for a while , get your fly rods dusted down and come have a cast ..OFFER of the week buy two day tickets and get a voucher for 1 free ...TEL 01524 793644
WASHING LINE RIGS
Sounds obvious that fish ar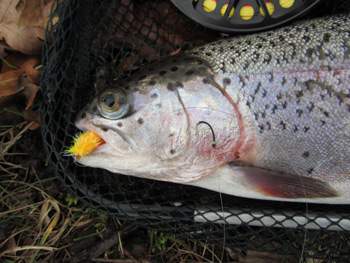 e found at various depths we know.  But how do you maximise your opportunity to attract them at those varying depths?  Easy!  Washing line rigs!  Washing line rigs are a very productive way of searching for and catching fish.   
A washing line rig is made up of 3 flies.  It starts with typically a bobby at the front as your point fly - this is fished  best on a floating line so that the booby lifts the rig.  Then the 2 remaining flies are often a PTN ,cruncher or diawl bach presented closer to the mid area or bottom. 
Come and see us soon fly fishing days from only £18.00.... Fly fishing lessons with our Game keeper Alec still only £35 for really friendly ,1.5  hours really relaxing lesson ..
The Cleveleymere Team
tel 01524 793644 or 07711055544..... Reception open every night till 10pm ....
Posted on 5th March 2012
SUMMER HOLIDAYS 2012 CLEVELEYMERE
NEWS LETTER - MARCH 2012
DON'T MISS OUT ' AGAIN  ' 
WARNING !! WARNING !! LAST 3/4 WEEKENDS LEFT AT THIS POINT UNTIL SEPTEMBER
 Just treat yourself's and get some thing booked before we are full every night as we have been the last two years ....5* lakeside 5* TREE HOUSE now FULLY OPEN ' ....Buy lancashire Life February issue , 5 page write up ' THEY WERE VERY IMPRESSED!!
.... LATEST REVIEW..... ''Wow !! ...I have never been & had the pleasure of staying in such a fantastic place .....Truly heavens slice of perfect !! Absolutely loved it here can't wait to come back ''  Still only £50 each a night for 4 people
 ... Water side 5* Huf Apartment still so popular floor to ceiling windows right on the 24 acre waters edge - £259 for two nights all in..No weekends now left , a few mid week dates still .....
Lakeside Minnows 2 adults 2 children £95 a night ...
Lakeside 5 star Fin lodge £35 a night for 6 people ...Small deposit secures any dates , look at your diary now .
When is it your Birthday or Anniversary or just getting good friends together , you will love it   ....Give reception a ring up till 10pm every night  Tel 01524 793644 or 07711055544
Look on our new Facebook page 'Cleveleymere 5* Lakeside lodges & fly Fishery'
 SEE YOU SOON ........
Posted on 27th February 2012
RARE CANCELLATION AT CLEVELEYMERE
A rare cancellation has just been made so we now have The 4* Gold Minnows Lodge available for checking n at 2pm this afternoon or 2pm tomorrow for a 2 Night stay £259 or a 3 night stay £329 all in these prices include a 1 of linen charge with fresh quality bed linen, towel, fluffy dressing gowns & toiletries.. Don't miss out on this amazing offer there is so much to do free on site 20+ boats, 15 Mountain bikes, canoes, canadian canoe, pedalo, Fresh eggs , wine & chocolates on arrival.. There is also so much to do within minutes..GIVE ME A CALL TODAY TO BOOK 07711055544 OR 01524 793644 ...

Posted on 11th February 2012
WHY NOT TREAT YOURSELF !! YOU NEED A BREAK!!
Why not think about a mid-week stay at Cleveleymere some availability left 2 Nights in the Lakeside 4* Gold Minnows Lodge from £220 Monday - Thursday or The Amazing 5* Waterside Huff From £260 Monday - Thursday or Maybe even treat yourself to The Amazing 5* Tree House with rope bridge & private boat harbour from £428 Monday - Thursday a truly amazing Lodge (Have a look in lancashire life February issue).. Or why not bring all The Family & stay
 

in our 5* Boutique Fin Lodge which sleeps up to 8.. From £390.. You will love it here so much to do free on site & the surrounding area is fab.. Free use of 20+ Boats , 15 Mountain Bikes, Canoes, Pedalo, Fresh eggs , Wine & chocolates on arrival & much more.. Contact Roger or Beth on 07711055544 or 01524 793644.. Don't Miss out we are getting busy!!! www.cleveleymere.com
Posted on 8th February 2012
Last few weekends at 5* lakeside lodges Cleveleymere
RARE CANCELLATION  this weekend ( Friday & Saturday ) in the lakeside Minnows lodge ( up to 2 adults , 2 children ) all in £259 Price includes FREE use of 20 + boats , 15 mountain bikes , canoes , canadian canoe , fresh eggs off our chickens Ken & Tucky, free use of den with pool tabkle ,table football , riverside fire kit with marshmellows fire lighters etc  .. FREE wine , chocolates and a very friendly , warm reception....
Last two weekends in our Grand Design Waterside Huf Apartment  with private harbour & boat , amazing south facing views across our 24 acre lake ..30th/1st June or 14th/15th September onwards ....
Look out for the TV programme with Amanda Lamb on  'My Flat Pack Home' Next month ( Like the channel 4 Grand Design Programme ) Last four weekends in the amazing  2 bedroomed lakeside 5* Tree House  March 23rd/24th or May 5th/6th or June 29th/30th or August 10th/11th onwards , Still from £50 a person each for 4 adults ( mid week )
New waterside Otters lodge opens Summer 2012 with its waterside harbour with free use of boat still on £35 per guest for 6 people ...
We are very busy & will be full again as the last 2 years , get booked in now with the last dates available , you deserve it ....
Give us a ring today ..
Reception open till 10pm every night ...www.cleveleymere.com tel 01524 793644 or 07711055544
 See  you very soon ...Roger and the team
Posted on 3rd February 2012